Welcome all you BATWer's. If you're not familiar with BATW then click on the button below! It's one of the coolest sites around.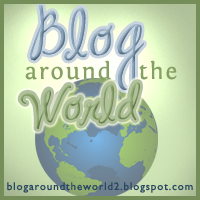 Let me take a quick moment to introduce myself. My name is Betty, I'm married to my high school sweetheart whom I met here in Arkansas. He is an Air Traffic Controller, hence the name Keeper of the Skies Wife! I hope you didn't experience to much turbulence on the plane....if so I can get John to talk to the pilot! I have two grown daughter's named Meg & Tori. I started this blog to keep me busy as I was adjusting to the empty nest syndrome.

I live in central Arkansas (Little Rock Area) I'm just a hop, skip & a jump away from everything.
Home of the RAZORBACKS!!!
Arkansas (that's Ark-an-saw) is the Natural State! It is known for it's natural beauty, it's rolling rivers and waterfalls, it's mountains and awesome caves & caverns and natural hot springs!
Here are two views from
Mt. Magazine
the highest point in Arkansas. If you ever want to vacation somewhere different...this is a beautiful place. In March you can witness the Butterfly Migration. Over 90 different species of butterflies. Paris, the small town at the end of the mountain holds a butterfly festival. John & I celebrated our 20th anniversary here.
The WORLD'S championship duck calling contest is held in Stuttgart.
This is Jody. He's from Kansas and won this years contest. I don't know him just thought I'd add a photo.
There are lots caves in Arkansas! Arkansas caves are living....they continually change. The Old Spanish Treasure cave is beautiful...legend has it that there is a buried treasure that the Spanish conquistadors buried in the cave 350 years ago. I have been in the Blanchard Springs Cavern in Mountain View. The caves have a temperature of 50-60 degrees. It is a beautiful site to see!
Natural Hot Spring in Hot Springs, Arkansas. It's nice to soak your feet in the hot water. There are
47 hot springs that flow from the southwestern slope of Hot Springs Mountain, at an average temperature of 143 F.
White River National Wildlife Refuge

Located in the foothills of the Ozarks is Altus...it's the Wine capital of Arkansas. Yep, we have vineyards in the mountains. There are 5 wineries to visit. Arkansas is the oldest and largest grape juice and wine producing state in the southern United States. Wiederkehr Wine Cellars and the Post Familie Vineyard in Altus are the top producing wineries in the United States. I LOVE wine!!!
Arkansas has the ONLY active diamond mind in the United States.
The Crater of Diamonds
State Park is located in Murfreesboro. It is open to the public....and is a fun place to get down and dirty and hope to find that huge diamond.
Here is a 5.47-carat, canary yellow diamond, found in 2006. I haven't had any luck finding one.
Do you remember the opening scene of Gone with the Wind. There is an Old Mill....well, I guess it was a new mill then.... Well, that Mill is right here in North Little Rock. It is believed to be the only structure left from that movie. It is a beautiful place to visit. Lots of weddings are held there each year.
Of course I can't forget to mention our 42nd President Bill Clinton. He was born in Hope. I can really insert loads of hilarious jokes....but, I won't. I love Bill!
Here is a view of Little Rock. That's the Arkansas river. The blue tent looking thing in the bottom left corner is where outdoor concerts are held. Up from that is where the Farmer's Market is. The bridge is the
Junction Pedestrian Walkway
. Downtown Little Rock is one of our favorite places to go. There are awesome restaurants like The Flying Fish and Boscos, piano bars, and neat shops like Ten Thousand Villages, live theater and art galleries.
About a mile walk from the River Market is The Clinton Library.
The Little Rock Nine
is in our history books. Here is a photo of Central High School where the segregation battle took place.
A great place to vacation in Arkansas would be
Eureka Springs
in the Ozark Mountains. It's a beautiful drive especially in the fall when the leaves are changing. The buildings are old, the streets are cobblestone, they have lots of Antique stores. You'd want to stay at the
Crescent

Hotel
. It's haunted. John & I stayed there and it's a little freaky I must admit.
The Duggar Family
from Springdale, Arkansas are expecting child # 18 in January 09'. Can you say, Stretch marks....I mean....are they crazy...I mean God Bless them!!!!
Sam Walton started Wal-Mart here in Bentonville back in the 1940's. I think there is a Super
Wal-Mart in every town around here.
Tyson Foods....yummy Tyson Chicken....it was started here in 1981.
Did you know Alltel was founded in Little Rock?!!! That's right CHAD!
Thought to be extinct, the Ivory-Billed Woodpecker was spotted in the Delta Wetlands. It hasn't been seen for over 60 years.
Near Dover
is an overlook with a view of an Ozark Valley. Here, appear the "Dover Lights," an unexplained phenomena that appears, flickers and sways in various colors. Some say they are the ghosts of Spanish Conquistadors searching for their lost gold in the Ozark foothills.
I have to mention the Fouke Bigfoot. The Boggy Creek Monster. My husband is obsessed with him. Go
here
to read about it, they made a movie about him. Oh yes, we have the movie and watch it several times a year.
I hope you enjoyed the trip to Arkansas. By the way there is still a law in Arkansas that states it is illegal to pronounce it wrong. That's right, so pronounce it Ark-an-saw!
Come back soon.