Where are my Angels is hosting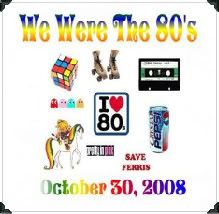 The 80's....ah, let me reminisce....Madonna....who didn't love her...what girl didn't dress like her!?! Jon Bon Jovi....what a hottie and still is!!!
I want my MTV
....and back then it was all about the music!
The best movies came out like Terms of Endearment, Top Gun, Back to the Future and my all time favorites......Breakfast Club, Fast Times at Ridgemont High, Urban Cowboy & Dirty Dancing!!
This is a photo of a photo....haha....John was 17, I was 15...it was 1986! I know it's fugly!!! John's hair was big too! This was a free 16x20 that we had taken at a hotel in Jacksonville. It cracks me up every time I look at
it.
Arcades....that was the place to be. I always played Pac-Man! Atari...do you remember PONG & Space Invaders! Oh the simplicity in our sweet Atari.
The evolution of switching from tapes to CD's.
High school.....on prom night of 87' we conceived our 1st daughter. Ah, yeah high school was great!
Big hair...long hair....banana clips....blue eyeshadow....leg warmers....parachute pants...Guess jeans....Members Only jackets....Jelly shoes(geez, these killed my feet but I wore them anyway cause they were cool)Chuck Taylor Converse (I still wear these) Reebok high tops in all crazy colors....I had a pair of Teal ones!
No cell phones....No computers...
Life was great in the 80's!!!!!!!!!!
Another photo of a photo....and it was actually 1990....but hey, we still have our 80's hair.