UPDATED ON 8-14-08 photos and fixed mistake.
I'm about to enter a recipe contest!! Heather & Tiffany from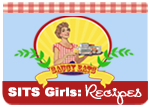 (The secret is in the Sauce) are putting this on. The winner will receive $100 gift card from Williams-Sonoma & A New Digital Camera!!!! So I'm going to enter the recipe that everyone always asks me to make. I have been making this dish for 19 years. I have modified it several times throughout the years. This is now the only way I'll make it. Picky eaters who usually hate cauliflower will love this dish! Wish me luck!
Cauliflower Casserole
1 large head cauliflower, broken into small florets
1/2 cup butter, melted ( I prefer land o' lakes)
1/4 cup grated Parmesan cheese
1 cup Italian seasoned bread crumbs
1 pinch salt
1/4 teaspoon garlic powder
1 teaspoon crushed red pepper flakes
1 cup shredded Cheddar cheese

Preheat oven to 350 degrees.
Steam your cauliflower until soft. Put cauliflower in big mixing bowl, set aside.

In a small bowl mix together butter, Parmesan cheese, bread crumbs, salt, garlic powder, red pepper flakes and 1/2 cup of cheese. Pour mixture over cauliflower, stir this until all florets are coated with mixture. Pour into baking dish. Top with remaining 1/2 cup of cheese.


Bake in the preheated oven for 15-20 minutes, or until cheese is melted and bubbly.
I hope you enjoy this recipe as much as my family and friends do. I'll try to make this tomorrow and add photos. We move our baby up to College for good today. :( So today I'll be bawling like crazy so I won't be able to do much of anything.
Betty