I woke up today to my darling hubby coming out of the bathroom with his hand raised in the air. Babe, you got a question for me?
Haha
, my hand hurts bad and it looks uglier today. (it feels better when it is elevated)
Whoa, he wasn't kidding....gag me with a spoon...nasty! He had called into work to let them know he had Staph and would not be coming in. I stayed home from church because I didn't want him contaminating my house and so I could baby him of course! He took a pain pill and has been in bed most of the day. Bless his heart.
I checked my blog and found out that
I was very excited that I had been selected as a Saucy Blogger over at The Secrets in the Sauce.
I sewed a tote today for work I love my little lunch bag I made last week....but I needed something to go over my shoulder. Why? Because I am stopped by a million
gazillion
6
th
graders the moment I walk into school asking for help opening their lockers.
Ok
...more like 2 or 3 but it's everyday! I couldn't juggle my lunch, purse and everything else anymore. So I made this tote.
It's
reversible
! Who doesn't like ladybugs?!
This is going to be perfect!!
I'm off to go cook up a breakfast dinner for John. I hope everyone has a wonderful week.
If you have come by my blog through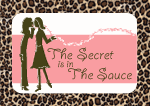 I thank you for taking the time to visit. Come on back anytime!